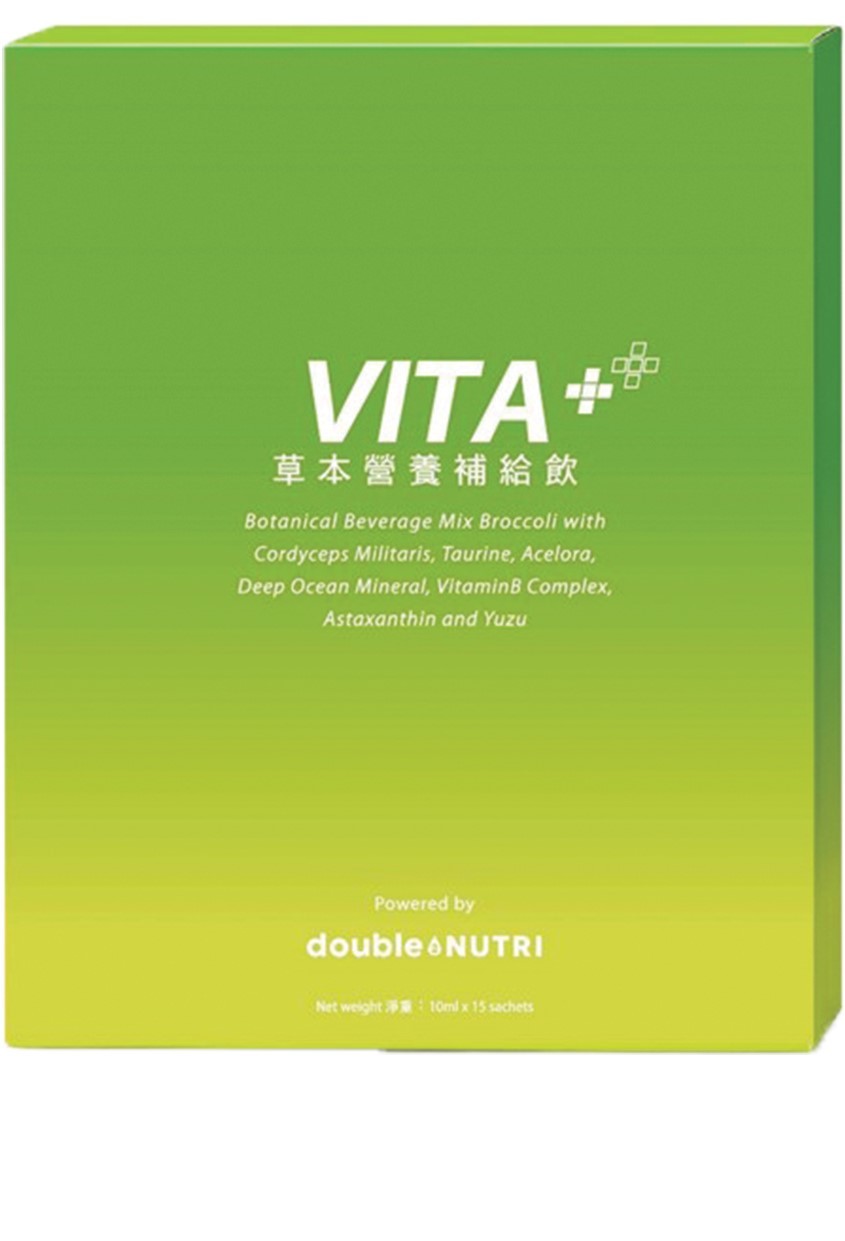 Vita+ (EN)
A botanical beverage containing naturally-occurring nutrients to supplement body's nutritional needs for optimal health and well-being.
With broccoli sprout, cordyceps militaris, haematococcus pluvialis, acelora cherry, vitamin B complex from yeast extract, yuzu seed, deep ocean minerals and taurine.
Contains 29 naturally-occurring vitamins and minerals.
Using patented Double Nutri™ technology which allows the incorporation of both water and oil soluble ingredients, and for enhanced bioavailability (5 times better absorption).
草本营养补饮
含有天然营养素的草本饮料,可提供身体所需要的营养素,达至最良好的健康状态。
含有西蓝花芽、冬虫夏草、红藻、西印度樱桃、取自酵母萃取的维他命B群、柚子籽、深海矿物质和牛磺酸。
含有29种天然的维他命和矿物质。
使用专利Double Nutri™ 科技制造,让水溶性与脂溶性成分得以相容协和,也能增强其生物利用率(5倍更佳的吸收)
Vita+
Minuman botanikal yang mengandungi nutrien semula jadi bagi melengkapkan keperluan nutrisi badan untuk kesihatan dan kesejahteraan yang optimum.
Terdiri daripada kecambah daripada brokoli, cordyceps militaris, haematococcus pluvialis, buah ceri aselora, vitamin B kompleks daripada ekstrak yis, biji buah yuzu, mineral dari laut dalam dan taurina.
Mengandungi 29 vitamin dan mineral semula jadi.
Menggunakan teknologi berpaten Double Nutri™ yang membenarkan penggabungan kedua-dua bahan larut air dan minyak serta mempermudahkan penggunaan oleh badan (kadar penyerapan 5 kali ganda lebih baik).
Shipping & Delivery

Grab Me will process & ship all orders within 12 hours after your order has been placed on our website. Once your order has been shipped, you will receive an e-mail from us with your tracking information and steps on how to track your order. Alternatively, if you registered an account with us during checkout, you may login to your account and check under Order History for the latest update & status on your order.


Local Shipping & Delivery (Malaysia)

Grab Me ships all local orders via Pos Laju.

All orders will be shipped before Pos Laju's cut-off time so most delivery to West Malaysia will take 1-2 business days & East Malaysia would take 2-4 business days. However, there a times where there might be unexpected delays on Pos Laju's side whereby it may take an extra day or two to arrive.

Local Shipping Charges & Duration

West/Peninsular Malaysia: Flat rate of RM6 (1-2 business days)
East/Sabah & Sarawak: Flat rate of RM10 (2-4 business days)
Contact Us
Need help? Get in touch with us via WhatsApp (+60169195161) or use the contact form on our website to send us an
e-mail.