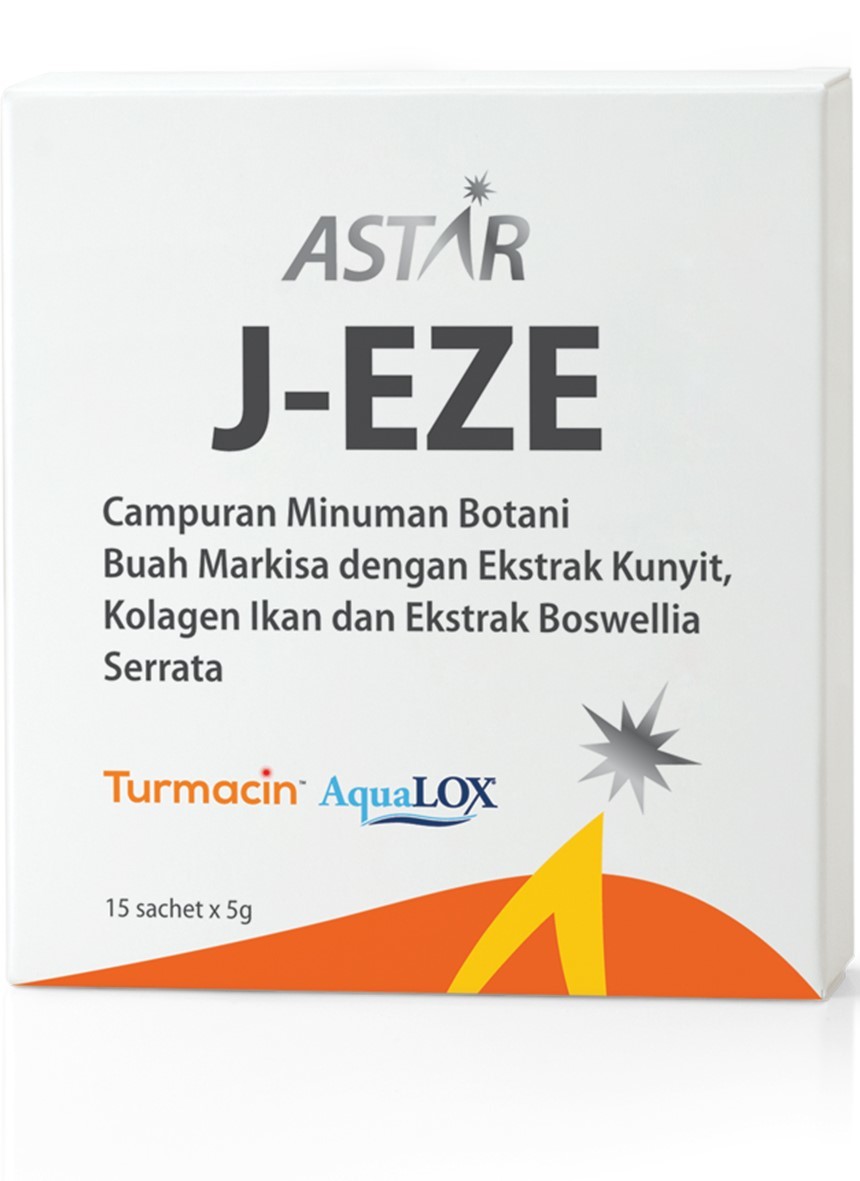 J-Eze 15 sachets x 5g (EN)
A delicious 3-in-1 joint food formula with branded, patented ingredients backed by studies.
Turmeric extract (Turmacin™) from Natural Remedies Private Limited, India. A patented water-soluble form of turmeric extract for better absorption and higher bioavailability. The active component, turmerossacharides showed significant anti-inflammatory effect in clinical studies, and help to improve joint problems by reducing joint pain and improving the function of the affected joint.
Boswellia Serrata Extract (AquaLOX®) from PL Thomas, USA.
It is well known in ayurvedic medicine for its role in helping inflammatory conditions. AquaLOX® has the highest concentration of Boswellia active component, AKBA (acetyl-keto-boswellic acid) at 78%. Besides being anti-inflammatory, it also inhibits the enzyme that causes the breakdown of cartilage and connective tissue. Thus, it offers a protective function and help maintain the joint's flexibility & mobility.
Fish Collagen from France
A natural ingredient from marine source which act as building block and lubricant for cartilage. It has lower molecular weight for better absorption and higher bioavailability.

Directions For Use:
Adult: Take 1-2 sachets, once daily before a meal. Mix 1 sachet into a cup of luke warm water (150ml), stir well and drink.
健节草本饮 15 包 x 5g
使用经过研究的专利品牌成份所配制的美味三合一健节草本饮。
姜黄萃取(Turmacin™),来自

印度Natural Remedies Private Limited


是

获得专利

的水溶性姜黄萃取,更容易被人体吸收,更高的生物利用率。其活性成份,姜黄多醣在临床实验中展现明显的抗发炎功效,能减轻关节疼痛进而缓解关节疾病,也能改善有问题的关节。

齿叶乳香萃取物(AquaLOX®),来自美国PL Thomas


在阿育吠陀医学中,其抗炎功效极为广知,而AquaLOX®含有最高的齿叶乳香活性成分 – 高达78%的乙酰基酮乳香酸(AKBA)。除了抗炎功能之外,它也能抑制导致软骨和连接组织分解的酵素,进而保护关节并维持伸缩性和行动力。

鱼类胶原蛋白,来自法国


来自海洋的天然成分,可作为软骨的筑材和润滑剂,因分子重量比较低所以更容易被吸收和更高的生物利用率。

食用建议:
成人:每日一至两包,餐前服用。以150毫升温水冲泡,拌均后即可饮用。
J-Eze 15 sacet x 5g (Malay)
Formulasi kesenangan pergerakan 3 dalam 1 yang enak dengan bahan-bahan berjenama dan berpaten yang disokong oleh kajian.
Ekstrak Kunyit (Turmacin™) dari Natural Remedies Private Limited, India.
Ekstrak kunyit dalam bentuk larut air yang berpaten untuk penyerapan yang lebih baik dan lebih mudah untuk digunakan oleh badan. Komponen aktif iaitu tumerosaccharides (polisakarida bioaktif) menunjukkan kesan anti-radang yang ketara dalam kajian klinikal dan membantu memperbaik masalah sendi dengan mengurangkan kesakitan sendi dan memulihkan fungsi sendi yang bermasalah.
Ekstrak Boswellia Serrata (AquaLOX®) dari PL Thomas, AS.
Ia terkenal dengan peranannya yang membantu masalah keradangan dalam perubatan aryuveda. AquaLOX® mempunyai kepekatan komponen aktif Boswellia iaitu AKBA (acetyl-keto-boswellic acid) yang tertinggi iaitu sebanyak 78%. Selain daripada fungsi anti-radang, ia juga merencat enzim yang menyebabkan penguraian rawan dan tisu penghubung. Oleh itu, ia menawarkan fungsi perlindungan dan membantu mengekalkan kelenduran dan pergerakan sendi.
Kolagen Ikan dari Perancis.
Bahan semula jadi daripada sumber laut yang bertindak sebagai blok binaan dan pelincir untuk rawan. Ia mempunyai berat molekul yang lebih rendah untuk penyerapan yang lebih baik dan lebih mudah untuk digunakan oleh badan.
Cara Penggunaan:
Dewasa: Ambil 1-2 paket, satu kali sehari sebelum makan. Tambah 1 paket ke dalam secawan air suam (150ml), bancuh dan minum.
Shipping & Delivery

Grab Me will process & ship all orders within 12 hours after your order has been placed on our website. Once your order has been shipped, you will receive an e-mail from us with your tracking information and steps on how to track your order. Alternatively, if you registered an account with us during checkout, you may login to your account and check under Order History for the latest update & status on your order.


Local Shipping & Delivery (Malaysia)

Grab Me ships all local orders via Pos Laju.

All orders will be shipped before Pos Laju's cut-off time so most delivery to West Malaysia will take 1-2 business days & East Malaysia would take 2-4 business days. However, there a times where there might be unexpected delays on Pos Laju's side whereby it may take an extra day or two to arrive.

Local Shipping Charges & Duration

West/Peninsular Malaysia: Flat rate of RM6 (1-2 business days)
East/Sabah & Sarawak: Flat rate of RM10 (2-4 business days)
Contact Us
Need help? Get in touch with us via WhatsApp (+60169195161) or use the contact form on our website to send us an
e-mail.