Insaan Noni Pomegranate Essence Noni 千赐
Overview
Whilst the 21st Century has brought with its amazing technological advances and progresses, we are still leading stressful lifestyles with poor diet choices and these have brought about an epidemic of chronic diseases such as diabetes, hypertension and cancer.
Since then, an increasing number of people are seeking alternative methods to stay healthy. The word "Wellness" is becoming more widely used where a 'holistic' approach to health does not only mean disease prevention but also longevity as well. And Noni plays a remarkable complementary role in achieving this state of 'wellness'.
For over 2,000 years, Noni has been recognised as a beneficial food by French Polynesian. As scientists continue to learn more about Noni, they discovered its startling ability as a "cell regulator" that helps in communication between cells and its capability to restore the "sick" cell.
Why Insaan Noni Pomegranate Essence?
Formulation of ancient fruits- Noni & Pomegranate
Unique fermentation and sterilizing technology, completely preserves the nutrients of Noni essence
Supported by lab reports and Clinical studies by Taiwan Tunghai University
Free from pesticides and chemical residues
Download Information for Noni & Pomegranate Essence
Function
Prevents damage from free radicals
Inhibition of tumour cell growth
Boosts up the immune system
Promotes cardiovascular function
Reduces pain and antibacterial
Active Ingredients
Noni fruit
Pomegranate fruit
Directions of use
(50ml x 1 bottle)
Mix 5-8 drops into 150ml of water and drink immediately. Take 1-2 times a day on an empty stomach.
Avoid coffee, tea, smoking or drinking alcohol 1-2 hours before and after consumption.
Not suitable for pregnant woman or nursing mother.
FAQ
Download FAQ for Noni & Pomegranate Essence (PDF, 431KB)
21世纪科技的进步,给人们带来无比的方便,但也因不均衡的饮食,日夜颠倒、压力的生活作息,带给人们许多文明病, 如糖尿病、血压高、癌症等。
简介
因此,人们开始寻找另类疗法,"增进健康疗法"以保持身体的健康。这个疗法已经开始受注目,因它对各种病痛,不但 要治疗,而且要先一步地预防,更要进一步增进健康、延长寿命。在此,诺丽果就扮演着极重要的使命。
其实,法国玻利尼西亚人早已把诺丽果视为具有医疗价值的食物,至今已超过2000年的历史。在透过现今的临床实验,已 证实它的疗效,最要为细胞调节剂,不但帮助协调细胞之间的沟通,同时也帮助调理"病态"或"不正常"的细胞,进一 步的改善许多健康问题。
为什么选择赢升千赐?
2种千年圣果(诺丽果和石榴果)的配方
使用独家发酵及低温灭菌技术,完整地释放及保存诺丽果的精华
多项有关诺丽的检测报告及东海大学研究为证
不使用化肥或农药
功效
预防自由基的伤害
抑制肿瘤细胞生长
提升免疫力
促进心血管功能
止痛抗菌
活性成份
使用方法
(50ml x 1瓶)
将5-8滴千赐混合入150毫升的室温水后即可饮用。每天空腹饮用1-2次。
避免在服用产品前后的1-2小时饮用咖啡、茶、吸烟和喝酒。
不适合孕妇或正在哺乳期的妇女服用。
FAQ
Pengenalan
Pada abad ke-21, walaupun teknologi berkembang dengan drastik tapi gaya hidup yang tertekan dan diet yang tak seimbang telah membawa kepada epidemik penyakit kronik seperti diabetis, tekanan darah tinggi dan kanser.
Justeru itu, semakin ramai orang yang mencari cara alternatif untuk menjaga kesihatan mereka. Kesihatan keseluruhan menjadi semakin popular di mana cara holistik digunakan bukan saja untuk pencegahan penyakit tetapi juga untuk awet muda. Di sini, Noni (buah mengkudu) memainkan peranan komplimentari yang menakjubkan dalam mencapai peringkat kesihatan keseluruhan.
Sebenarnya, penduduk Polynesia di Perancis sudah mengakui Noni sebagai makanan yang bermanfaat untuk tubuh badan sejak dua ribu tahun yang lalu. Kini, sejajar dengan penyelidikan yang dijalankan oleh saintis, Noni didapati mempunyai sifat sebagai "Pengawalatur sel" di mana ianya berupaya memperbaiki komunikasi di antara sel-sel tubuh di samping mengembalikan sel yang "sakit" menjadi normal.
Mengapa pilih Insaan Esen Noni Pomegranate?
Formulasi buah-buahan zaman purba – Noni dan buah delima
Proses penapaian dan teknologi pensterilan yang unik bagi menjamin zat-zat esen noni
Disokong oleh laporan makmal dan kajian Universiti Tunghai, Taiwan
Bebas daripada racun serangga dan bahan kimia
Muat turun Informasi untuk Esen Noni & Pomegranate
Fungsi
Mencegah kemudaratan radikal bebas
Mencegah pertumbuhan sel kanser
Meningkatkan daya ketahanan badan
Mempercepatkan peredaran darah
Mengurangkan kesakitan dan antibakteria
Ramuan Aktif
Cara Penggunaan
(50ml x 1 botol)
Campurkan 5 – 8 titis ke dalam 150ml air dan minum dengan segera.
Ambil 1-2 kali sehari sebelum makan. Elakkan pengambilan kopi, teh, tembakau atau minuman keras 1 hingga 2 jam sebelum atau selepas mengambil produk.
Tidak sesuai untuk wanita mengandung atau ibu menyusu.
S&J
Muat turun S&J untuk Esen Noni & Pomegranate (PDF, 431KB)
Heavy Metals and Microbe Test 重金属和微生物检测报告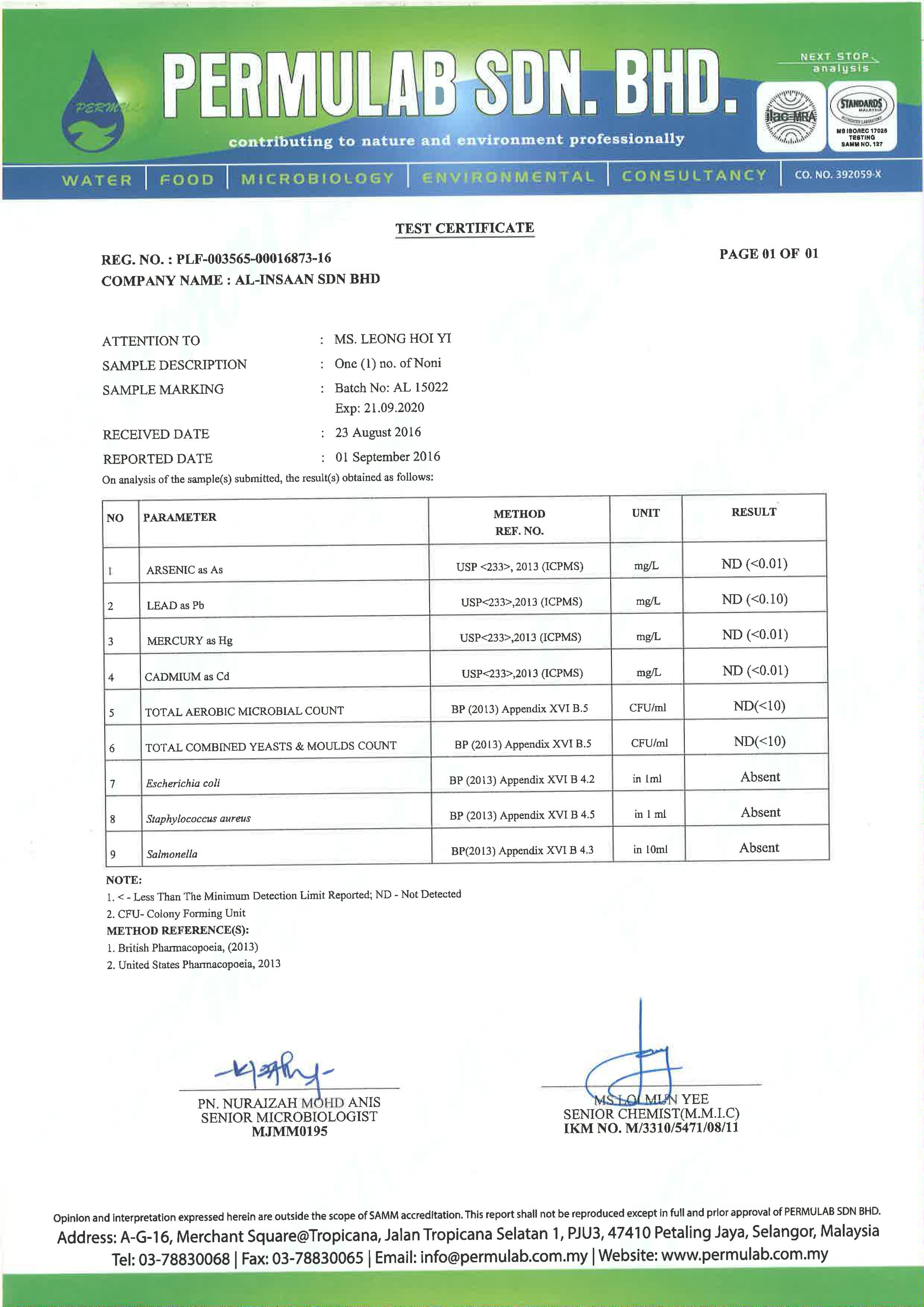 DEHP Certificate