Astar Red & Black Bean Drink 赤红黑豆水 (体重问题、水肿和浮肿、脸色苍白、月经不适、奶水不足、皮肤干燥问题)
Red & Black Bean Drink 10 sachets x 4g (EN)
Adzuki Bean - Unlike regular red beans, Adzuki beans (sometimes called Azuki) from the Japanese word "small" or in Chinese "Chi Xiao Dou", are the most "yang" or warming of the bean family and are good for imparting strength. Loaded with health promoting nutrients, such as bioflavonoids, dietary fiber, folate, potassium, magnesium and B vitamins.
Green Kernel Black Bean - Topping the list of anti-oxidant activity amongst beans, black beans are an outstanding source of phytonutrients like saponins, anthocyanins, kaempherol and quercetin. Unlike regular black beans, green kernel black bean contains much higher nutritional content.
Suitable for

people with the following concerns:


Weight issues. Water retention and puffiness. Pale skin. Menstrual cramps. Low milk supply. Dry skin problems.
Reap the benefits of red bean and black bean in one convenient sachet! One sachet is equivalent to the

benefits of 40 bowls of red and black bean soup!

Highly concentrated red bean and black bean powder.

Non-GMO

No added sugar.

No added artificial flavouring, preservatives and additives.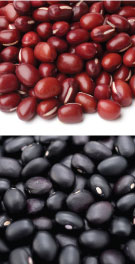 Directions For Use
Take 1-2 sachets daily. Mix powder into a glass of water (300ml) or beverages of your choice, stir and drink. Not recommended with hot water. You can also mix it in a bottle of 500ml of mineral water and sip and drink throughout the day.
Can be consumed during pregnancy, lactation and menstruation.
赤红黑豆水 10 包 x 4g
赤小豆– 与普通红豆不同,赤小豆(也被称作Azuki)在日语意味"小"。它是豆类家族之中最具"阳气"或暖身的豆类,也能提供能量。富含生物类黄酮、膳食纤维、叶酸、钾、镁和维他命B群等可促进健康的营养素。
青仁黑豆– 黑豆是所有豆类的抗氧化活性位列第一的豆类,也是皂苷、花青素、山萘酚和槲皮素等植物营养素的主要来源。与普通黑豆不同的是,青仁黑豆的营养含量更高。
适合有以下问题的人:


体重问题、水肿和浮肿、脸色苍白、月经不适、奶水不足、皮肤干燥问题。

小巧简便的随身食用包就可让你轻易获得红豆和黑豆的效益!每一小包的功效相

等于40碗的红黑豆汤!

高浓缩的红豆和黑豆粉

非基因改造

无添加糖分

不含人造味素、防腐剂和其他添加物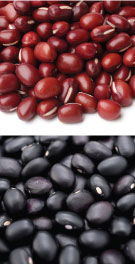 食用建议
每日食用1-2包,以300毫升的水冲泡或加入你喜爱的饮料中,搅拌均匀即可食用。不建议加入热饮。你也可加入500毫升矿泉水的瓶子里混均,慢慢饮用一整天。
怀孕期、哺乳期和月经期间都可安心享用。
Red & Black Bean Drink 10 sacet x 4g (Malay)
Kacang Adzuki – Tidak seperti kacang merah biasa, nama kacang Adzuki (kadangkala dipanggil Azuki) datangnya dari perkataan Jepun "kecil" atau dalam bahasa Cina "Chi Xiao Dou" merupakan kacang paling bersifat "yang" atau bersifat panas dalam keluarga kekacang dan adalah baik untuk memberikan tenaga. Dipenuhi dengan nutrien penggalak kesihatan seperti bioflavonoid, serat makanan, folat, kalium, magnesium dan vitamin B
Kacang Hitam dengan Isirung Hijau – Dengan kedudukannya dalam senarai aktiviti antioksidan teratas dalam kalangan kekacang, kacang hitam adalah sumber unggul nutrien daripada tumbuhan seperti saponin, antosianin, kaemferol dan kuersetin. Tidak seperti kacang hitam biasa, kacang hitam dengan isirung hijau mengandungi kandungan nutrisi yang lebih tinggi.
Sesuai untuk mereka dengan kebimbangan berikut:

Berat badan. Pembendungan air dan sembap. Kulit pucat. Kejang semasa haid. Kekurangan bekalan susu ibu. Masalah kulit kering.

Perolehi manfaat kacang merah dan hitam dalam satu paket yang mudah diambil! Satu paket memberi manfaat yang setara dengan 4

0 mangkuk sup kacang merah dan hitam!

Serbuk kacang merah dan hitam yang berkepekatan tinggi.

Bukan GMO.

Tiada gula tambahan.

Tanpa perasa tiruan, bahan pengawet dan aditif tambahan.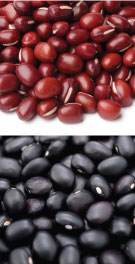 Cara Penggunaan
Ambil 1-2 paket setiap hari. Tambah serbuk ke dalam segelas air (300ml), bancuh dan minum. Ia juga boleh dibancuh dengan minuman pilihan anda. Penggunaan air panas tidak disyorkan. Ia boleh diambil semasa hamil, menyusu dan datang haid.
Shipping & Delivery

Grab Me will process & ship all orders within 12 hours after your order has been placed on our website. Once your order has been shipped, you will receive an e-mail from us with your tracking information and steps on how to track your order. Alternatively, if you registered an account with us during checkout, you may login to your account and check under Order History for the latest update & status on your order.


Local Shipping & Delivery (Malaysia)

Grab Me ships all local orders via Pos Laju.

All orders will be shipped before Pos Laju's cut-off time so most delivery to West Malaysia will take 1-2 business days & East Malaysia would take 2-4 business days. However, there a times where there might be unexpected delays on Pos Laju's side whereby it may take an extra day or two to arrive.

Local Shipping Charges & Duration

West/Peninsular Malaysia: Flat rate of RM6 (1-2 business days)
East/Sabah & Sarawak: Flat rate of RM10 (2-4 business days)
Contact Us
Need help? Get in touch with us via WhatsApp (+60169195161) or use the contact form on our website to send us an
e-mail.