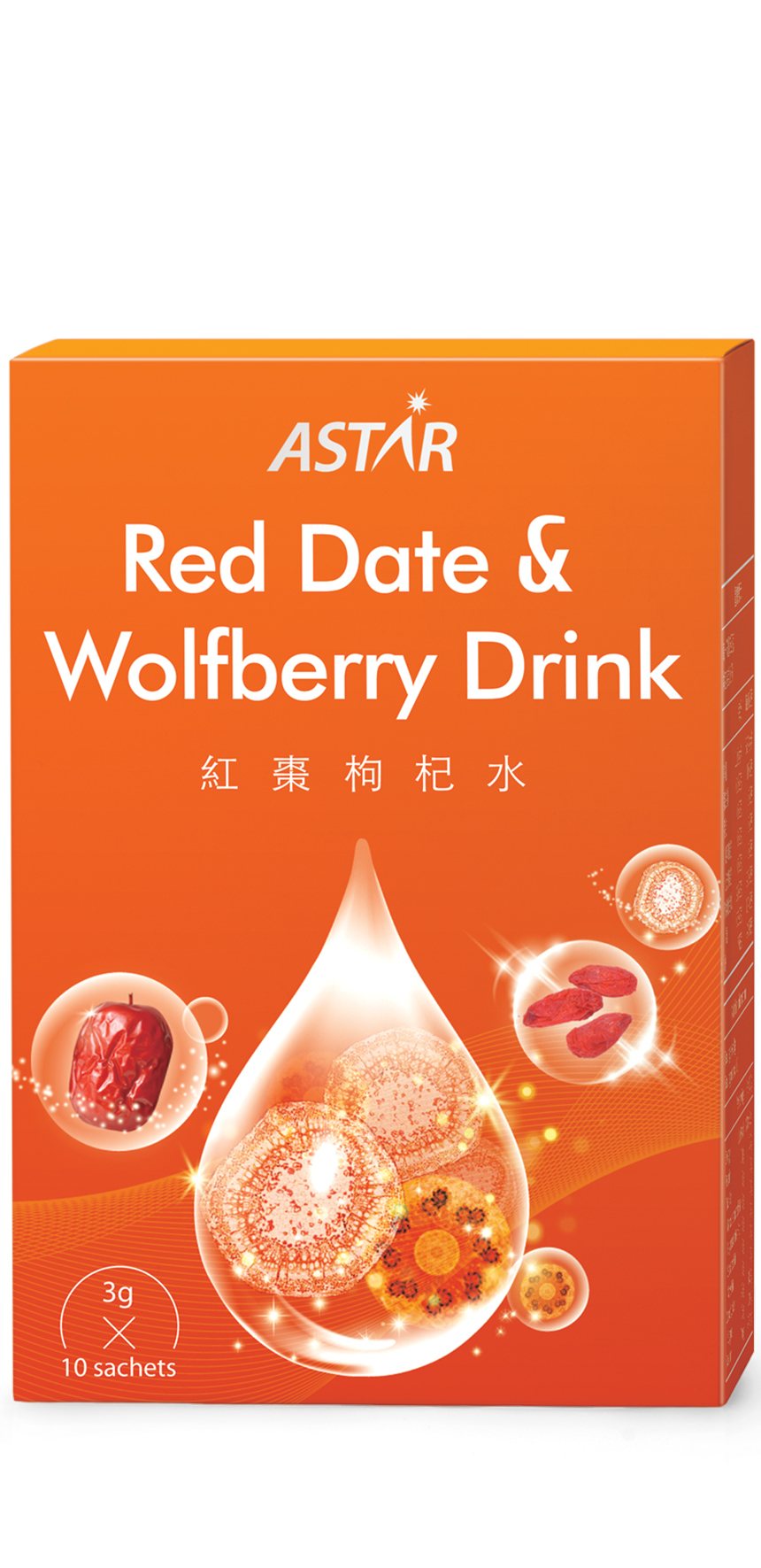 Astar Red Date & Wolfberry Drink 红枣枸杞水 (适合那些常觉得疲倦乏力,精神不济的人)
Red Date & Wolfberry Drink 10 sachets x 3g (EN)
Red date and wolfberry which are known for their restorative and replenishing properties.
Red date is warm-natured1 and has a wide array of nutrients like Vitamin A, B1, B2, C, iron, polysaccharides and triterpenoid, which help to nourish the body and replenish 'Qi' (energy).
Wolfberry (also known as Goji berry) is rich in the antioxidant Beta-carotene, which is widely used in traditional Chinese medicine remedies to improve eyesight and promote healthy skin.
Suitable for

people who is feeling tired, lack of energy and fatigued.

Reap the benefits of Red Dates and Wolfberry, two delicious and nourishing foods in one convenient sachet!

Concentrated

100% natural

Non-GMO

No added sugar

No added artificial flavouring, preservatives or additives.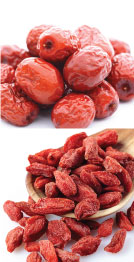 Directions For Use:
Take 1-2 sachets daily. Mix powder into a glass of water (300ml) or beverages of your choice, stir and drink. Not recommended with hot water. You can also mix it in a bottle of 500ml of mineral water and sip and drink throughout the day.
红枣枸杞水 10 包 x 3g
红枣和枸杞的滋补功效非常普遍。
红枣是属于温补的食材,含有如维生素A、B1、B2、C、铁质、多糖体和三萜类等的多种营养素,可帮助補中益氣。
枸杞(也被称为杞子)含有丰富的β-胡萝卜素抗氧化剂,常在传统中华医学上用于改善视力和促进健康的肌肤。
适合

那些常觉得疲倦乏力,精神不济的人

。

小巧简便的随身食用包就可让你轻易获得红枣和枸杞,这两种既美味又营养价值高的食品所带来的效益!

浓缩

100% 天然

非基因改造

无添加糖分

不含人造味素、防腐剂和其他添加物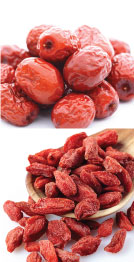 食用建议:
每日食用1至2包,以300毫升的水冲泡,搅拌均匀即可食用,也可放入500毫升矿泉水的瓶子里混匀,慢慢饮用一整天。也可以加入你喜爱的饮料中。不适合加入热饮。
Red Date & Wolfberry Drink 10 sacet x 3g (Malay)
Kurma merah dan buah goji dikenali untuk sifat-sifat pemulihan dan penambahan semula.
Kurma merah bersifat panas1 dan mempunyai kumpulan nutrien yang luas seperti Vitamin A, B1, B2, C, zat besi, polisakarida dan triterpenoid yang membantu memberi khasiat kepada badan dan menambahkan 'Qi' (tenaga).
Buah Goji (juga dikenali sebagai Wolfberry) adalah kaya dengan antioksidan Beta-karotena yang digunakan secara meluas dalam ramuan ubat tradisional Cina untuk penglihatan dan kesihatan kulit.
Sesuai untuk mereka yang

berasa letih, kekurangan tenaga dan lesu.

Perolehi manfaat Buah Bidara dan Buah Goji, dua makanan yang enak dan berkhasiat dalam satu paket yang mudah diambil!

Tinggi konsentrasi

100% Semula jadi

Bukan GMO

Tiada gula tambahan

Tanpa perasa tiruan, bahan pengawet dan aditif tambahan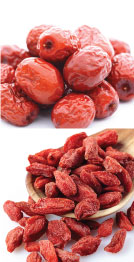 Cara Penggunaan:
Ambil 1-2 paket setiap hari. Tambah serbuk ke dalam segelas air (300ml), bancuh dan minum. Anda juga boleh tambah ia ke dalam air mineral (botol 500ml), bancuh dan hirup/ minum sepanjang hari. Ia juga boleh dibancuh dengan minuman pilihan anda. Penggunaan air panas tidak disyorkan.
Shipping & Delivery

Grab Me will process & ship all orders within 12 hours after your order has been placed on our website. Once your order has been shipped, you will receive an e-mail from us with your tracking information and steps on how to track your order. Alternatively, if you registered an account with us during checkout, you may login to your account and check under Order History for the latest update & status on your order.


Local Shipping & Delivery (Malaysia)

Grab Me ships all local orders via Pos Laju.

All orders will be shipped before Pos Laju's cut-off time so most delivery to West Malaysia will take 1-2 business days & East Malaysia would take 2-4 business days. However, there a times where there might be unexpected delays on Pos Laju's side whereby it may take an extra day or two to arrive.

Local Shipping Charges & Duration

West/Peninsular Malaysia: Flat rate of RM6 (1-2 business days)
East/Sabah & Sarawak: Flat rate of RM10 (2-4 business days)
Contact Us
Need help? Get in touch with us via WhatsApp (+60169195161) or use the contact form on our website to send us an
e-mail.