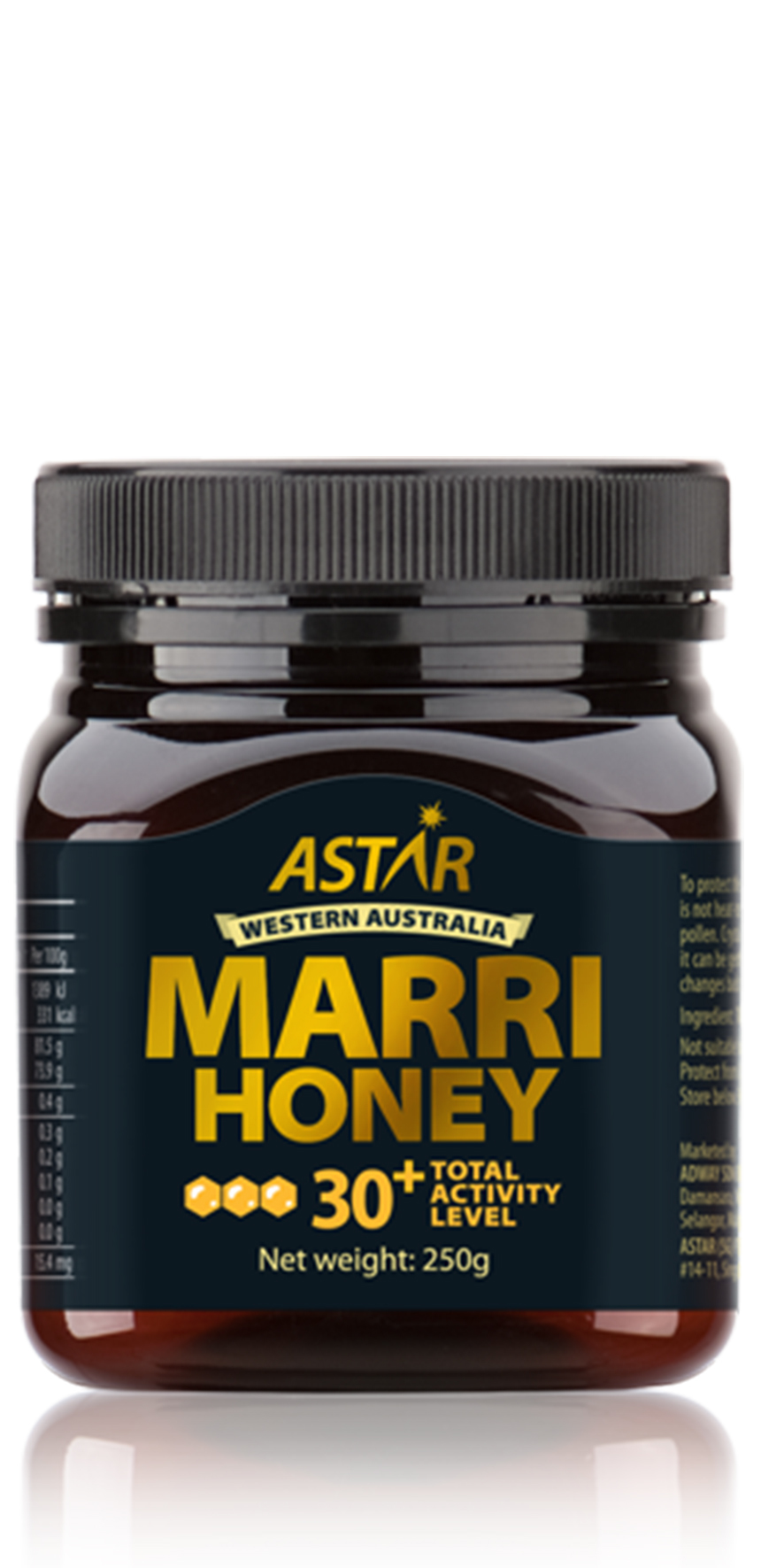 Astar Marri Honey TA30+ 赤桉树蜂蜜TA30+
Marri Honey TA30+ 250g
From Eucalyptus trees (Corymbia calophylla) native to Western Australia and harvested by dedicated, passionate beekeepers.
A darker, premium variety of honey that is high in antioxidants and has a thick consistency, delicious taste and distinctive aroma.
Naturally harvested – not heat treated or chemically processed to maintain its natural nutrients and health benefits.
Bioactive Marri Honey – with natural anti-microbial activity and every batch is tested for Total Activity of at least TA30 to ensure consistency of quality.

No pesticides, antibiotics or harmful chemicals.

100% Pure & Natural – no artificial flavouring, colouring, preservatives or sugar added.
Directions For Use:
Take 1-2 teaspoons and consume directly or mix with water or beverages of your choice.
赤桉树蜂蜜TA30+ 250g
来自原产于澳洲西部的赤桉树(Corymbia calophylla),由专业的养蜂人所采取。
色泽较深的优质蜂蜜,富含抗氧化剂,有着浓郁的质感、味道和独树一格的香气。
全天然采取 – 非过热处理或化学剂处理,以保持其天然营养素和健康效益。
具生物活性的蜂蜜 – 含有天然的抗菌活性,每一批都经过总活性(TA)检测,确保品质一致。

不含农药、抗生素或任何有害化学剂。

100%纯天然 – 不含人造味素、色素、防腐剂或糖

。
食用建议:
取1至2茶匙直接食用,或加入水或者饮料中搅和饮用。
Marri Honey TA30+ 250g (Malay)
Diperoleh daripada pokok kayu putih (Corymbia calophylla) yang merupakan tumbuhan asli Australia Barat. Kerja-kerja menuai dilakukan oleh pemelihara lebah yang berdedikasi dan penuh semangat.
Jenis madu premium (warnanya lebih gelap) dengan kandungan antioksidan yang tinggi dan mempunyai konsistensi pekat, rasa yang menonjol lagi lazat dan aroma tersendiri.
Penuaian secara semula jadi – perlakuan tanpa haba atau tidak diproses dengan bahan kimia untuk mengekalkan nutrien semula jadi dan manfaat kesihatannya.
Madu Bioaktif Marri – dengan aktiviti antimikrob semula jadi dan Aktiviti Total (Total Activity,TA) bagi setiap kelompok telah diuji untuk menjamin kualiti yang konsisten.

Tiada racun perosak, antibiotik atau bahan kimia berbahaya.

100% Tulen dan Semula jadi – tanpa perasa tiruan, pewarna, bahan pengawet atau gula tambahan.
Cara Penggunaan:
Ambil 1-2 sudu besar secara terus atau bancuh ia dengan air atau minuman.
Shipping & Delivery

Grab Me will process & ship all orders within 12 hours after your order has been placed on our website. Once your order has been shipped, you will receive an e-mail from us with your tracking information and steps on how to track your order. Alternatively, if you registered an account with us during checkout, you may login to your account and check under Order History for the latest update & status on your order.


Local Shipping & Delivery (Malaysia)

Grab Me ships all local orders via Pos Laju.

All orders will be shipped before Pos Laju's cut-off time so most delivery to West Malaysia will take 1-2 business days & East Malaysia would take 2-4 business days. However, there a times where there might be unexpected delays on Pos Laju's side whereby it may take an extra day or two to arrive.

Local Shipping Charges & Duration

West/Peninsular Malaysia: Flat rate of RM6 (1-2 business days)
East/Sabah & Sarawak: Flat rate of RM10 (2-4 business days)
Contact Us
Need help? Get in touch with us via WhatsApp (+60169195161) or use the contact form on our website to send us an
e-mail.