Astar Goji Berry Drink Plus 明亮素 (长时间操作电脑的上班族、经常使用手机和电子器材的人和老年人)
Goji Berry Drink Plus 10 sachets x 4g (EN)
A delicious cocoa flavoured herbal blend combining ingredients beneficial for vision as recorded in Compendium of Masteria Medica - Goji Berry (wolfberry), Calendula, Blueberry and Chrysanthemum.
Naturally contains beta-carotene, lutein and anthocyanin.
Developed by Industrial Technology Research Institute (ITRI) of Taiwan using patented technology for higher concentration and better absorption.
The nano-sized active ingredients can be directly absorbed through sublingual and oral mucosa - this rapidly enters the circulatory system and reaching the related location for faster results and greater efficacy.
Suitable for

students, office workers especially for those spending long hours working with computer, or frequently using handphone and digital gadgets and the elderly.
Directions For Use
| | |
| --- | --- |
| Adult: | Take 1-2 sachets daily after meal. |
| Children: | Take ½ - 1 sachet daily after meal. |
Pour powder directly into your mouth and drink water or mix powder into a glass of water (approximately 300ml), stir and drink.
明亮素 10 包 x 4g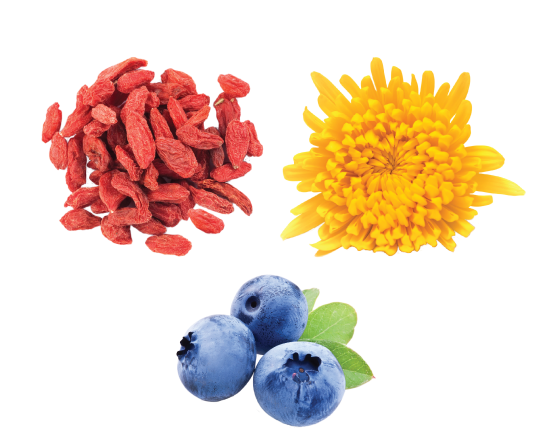 美味可可口味的草本配方,结合了本草纲目里有所记载的明目成分,如枸杞、金盏花、蓝梅和菊花。
富含β胡萝卜素、叶黄素和花青素。
由台湾工研院所研发,使用获得专利的科技制成,更浓缩、吸收率更好。
奈米化的有效成分可透过舌下或口腔黏膜直接吸收,更快速渗入循环系统直达相关的部位,效果更快速显见。
适合

学生、长时间操作电脑的上班族、经常使用手机和电子器材的人和老年人。
食用建议
| | |
| --- | --- |
| 成人: | 每日1至2包,餐后食用。 |
| 孩童: | 每日½ 至1 包,餐后食用。 |
直接将粉末倒入口中再喝水,或以300毫升的水冲泡,搅拌均匀即可食用。
Goji Berry Drink Plus 10 sacet x 4g (Malay)
Sebatian herba berperisa koko enak yang menggabungkan bahan bermanfaat untuk mata seperti yang direkodkan dalam Compendium of Masteria Medica – Buah Goji (wolfberry), Kalendula, Beri Biru dan Kekwa.
Ia mengandungi beta-karotena, lutein dan antosianin secara semula jadi.
Dicipta oleh ITRI (Industrial Technology Research Institute) Taiwan menggunakan teknologi berpaten untuk memperolehi kepekatan yang lebih tinggi dan kadar penyerapan yang lebih baik.
Bahan aktif bersaiz nano dapat diserap secara langsung melalui sublingual (bawah lidah) dan mukosa mulut – oleh itu, ia memasuki sistem peredaran dengan cepat untuk tiba ke lokasi yang berkaitan supaya hasil yang lebih cepat dan keberkesanan yang lebih baik diperolehi.
Sesuai untuk

pelajar, pekerja pejabat terutamanya mereka yang menggunakan komputer untuk jangkamasa yang lama atau kerap menggunakan telefon bimbit dan alat digital serta warga emas.
Cara Penggunaan
| | |
| --- | --- |
| Dewasa: | Ambil 1-2 paket setiap hari selepas makan |
| Kanak-kanak: | Ambil ½-1 paket setiap hari selepas makan. |
Tuang serbuk terus ke dalam mulut dan minum air atau tambah serbuk ke dalam segelas air (lebih kurang 300ml), bancuh dan minum.
Testimonial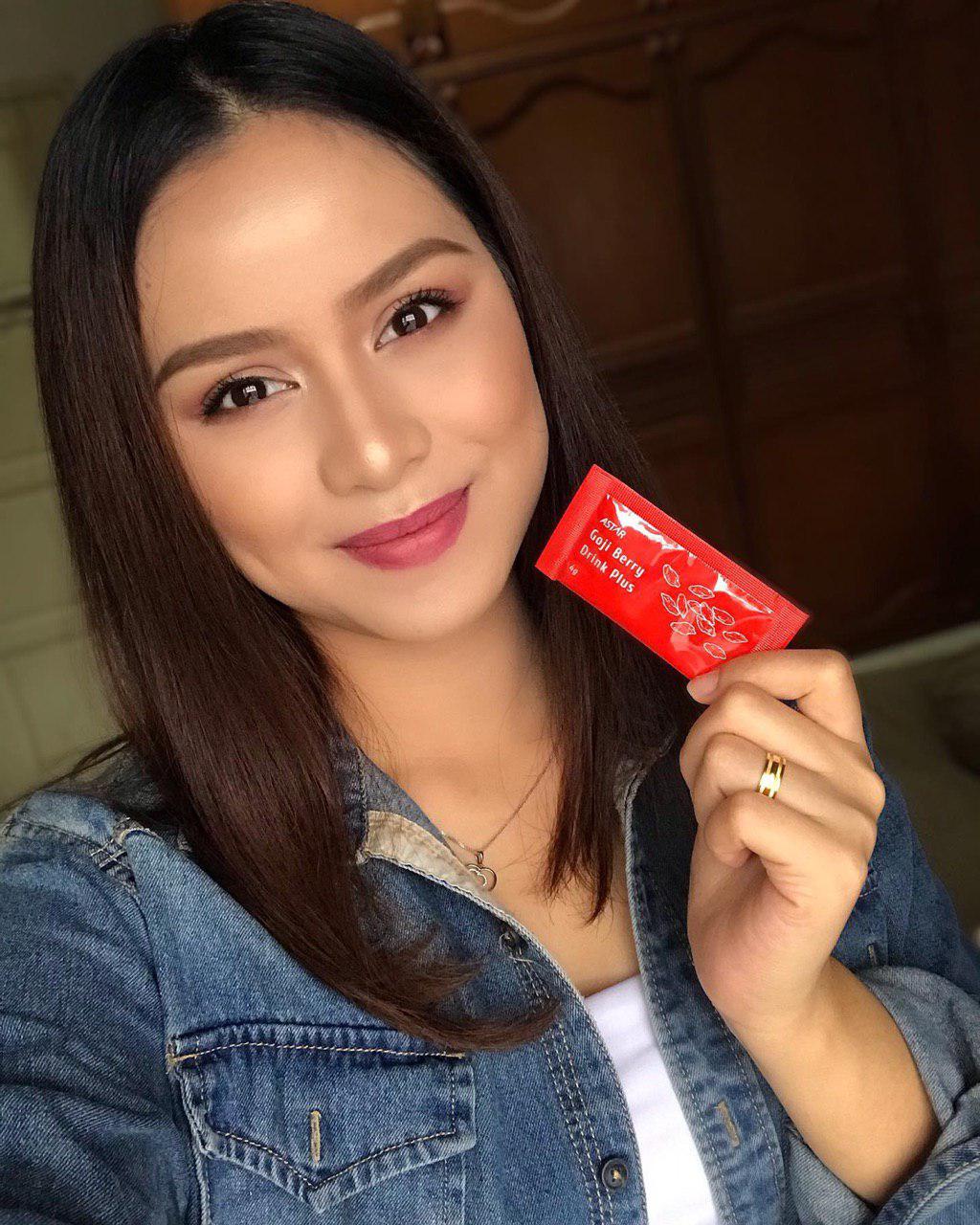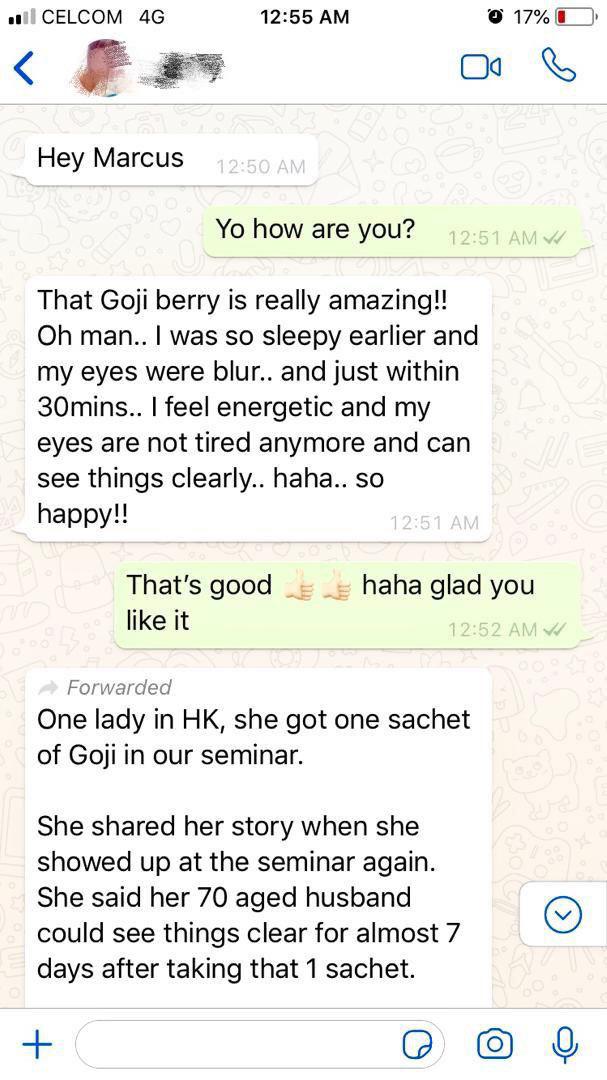 Shipping & Delivery

Grab Me will process & ship all orders within 12 hours after your order has been placed on our website. Once your order has been shipped, you will receive an e-mail from us with your tracking information and steps on how to track your order. Alternatively, if you registered an account with us during checkout, you may login to your account and check under Order History for the latest update & status on your order.


Local Shipping & Delivery (Malaysia)

Grab Me ships all local orders via Pos Laju.

All orders will be shipped before Pos Laju's cut-off time so most delivery to West Malaysia will take 1-2 business days & East Malaysia would take 2-4 business days. However, there a times where there might be unexpected delays on Pos Laju's side whereby it may take an extra day or two to arrive.

Local Shipping Charges & Duration

West/Peninsular Malaysia: Flat rate of RM6 (1-2 business days)
East/Sabah & Sarawak: Flat rate of RM10 (2-4 business days)
Contact Us
Need help? Get in touch with us via WhatsApp (+60169195161) or use the contact form on our website to send us an
e-mail.