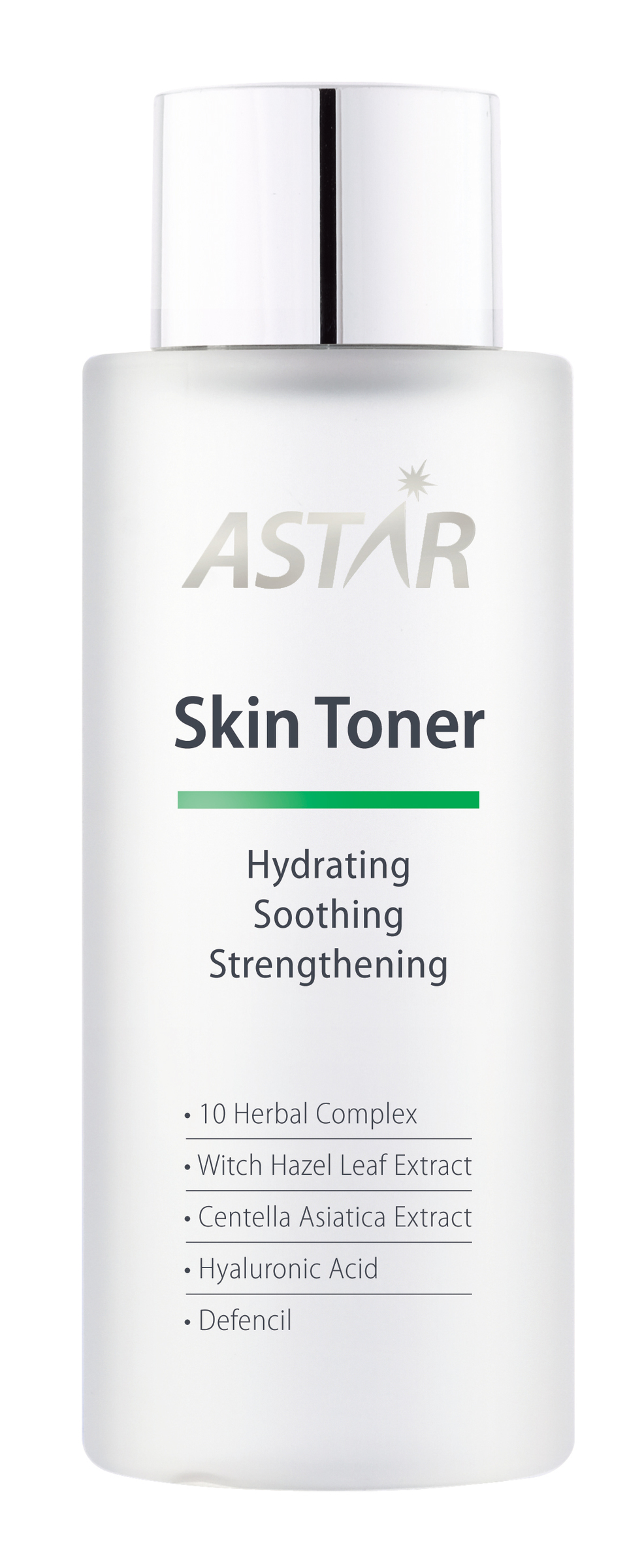 Skin Toner 150ML (EN)
Hydrating | Soothing | Strengthening
This super-hydrating toner removes the last traces of skin impurities after cleansing and restores balance to your skin. With an abundance of revitalising plant ingredients and anti-oxidants, it soothes and protects skin from damage, revives dull, tired-looking skin, and boosts your skin's natural ability to repair itself.
Main Ingredients:
10 Herbal Complex

Witch Hazel Leaf Extract

Centella Asiatica Extract

Hyaluronic Acid

Defencil
Directions For Use:
After cleansing face, apply toner with a cotton pad. Use on face and neck.
保湿水 150ML
保湿 | 舒缓 | 强化
这款超级保湿水可以清除洁面后所残留的肌肤杂质,并恢复肌肤的平衡。含有丰富的活肤植物成分和抗氧化剂,可舒缓和保护肌肤免受损害,恢复暗沉及疲惫的肌肤,并增进肌肤的自然修复能力。
主要成分:
10种草本精华

金缕梅叶萃取

积雪草萃取

透明质酸

Defencil
使用说明:
洁面后,以化妆棉涂抹保湿水。用于面部和颈部。
Skin Toner 150ml (Malay)
Menghidratkan | Melegakan | Menguatkan
Penyegar yang amat menghidratkan ini menanggalkan sisa-sisa bendasing pada kulit selepas membersih dan mengembalikan keseimbangan kepada kulit anda. Kaya dengan ramuan tumbuh-tumbuhan yang mencergaskan dan antioksidan, ia melega dan melindungi kulit daripada kerosakan, menyegarkan kulit yang kelihatan kusam dan tidak bermaya serta merangsangkan keupayaan pemulihan sendiri semula jadi kulit.
Bahan Utama:
10 Kompleks Herba

Ekstrak Daun Witch Hazel

Ekstrak Centella Asiatica

Asid Hialuronik

Defencil
Cara Penggunaan:
Sapu penyegar pada kulit dengan kapas selepas membersihkan muka. Gunakan pada muka dan leher.
Shipping & Delivery

Grab Me will process & ship all orders within 12 hours after your order has been placed on our website. Once your order has been shipped, you will receive an e-mail from us with your tracking information and steps on how to track your order. Alternatively, if you registered an account with us during checkout, you may login to your account and check under Order History for the latest update & status on your order.


Local Shipping & Delivery (Malaysia)

Grab Me ships all local orders via Pos Laju.

All orders will be shipped before Pos Laju's cut-off time so most delivery to West Malaysia will take 1-2 business days & East Malaysia would take 2-4 business days. However, there a times where there might be unexpected delays on Pos Laju's side whereby it may take an extra day or two to arrive.

Local Shipping Charges & Duration

West/Peninsular Malaysia: Flat rate of RM6 (1-2 business days)
East/Sabah & Sarawak: Flat rate of RM10 (2-4 business days)
Contact Us
Need help? Get in touch with us via WhatsApp (+60169195161) or use the contact form on our website to send us an
e-mail.